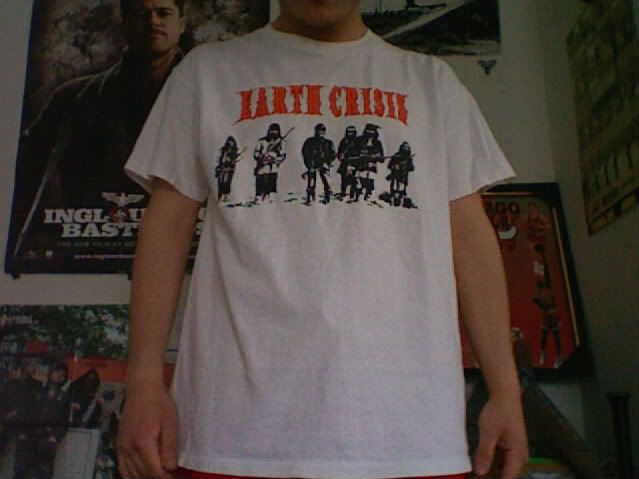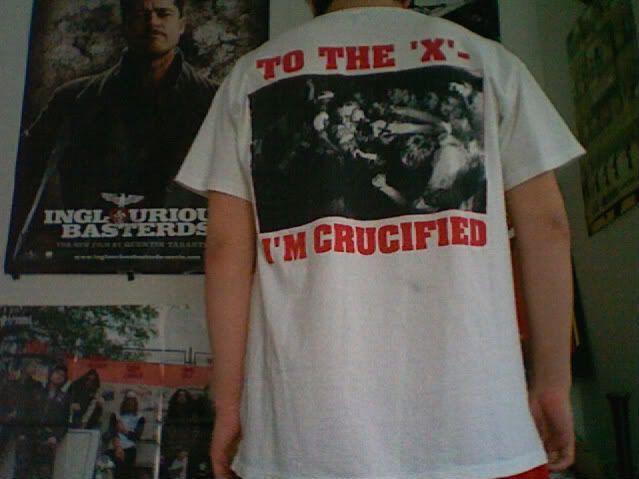 Name/Location: My name is Robert/Rob/Warfish. I'm from a place called Long Island, New York.
Tell me about the shirt: This is the Earth Crisis "To the X I'm Crucified" shirt. It is my favorite Earth Crisis design, let alone one of my favorite shirt designs ever.
Why is it important to you?: It's important to me because Earth Crisis advocates two things that are very important to me. The Straight Edge and veganism. The shirt kind of expresses that I intend to hold on to both of those things for the rest of my life.
Where did you get it?: I was browsing someone's HowsYourEdge (I forgot their name) page and I saw that they had it listed, so on my 18th birthday, I emailed them and asked them if they would part with it, and they did. I was very happy.
Any story you want to share about it? There isn't really any story to tell about it, yet.
Post your blog/band site/whatever: Be on the lookout for a zine I'm making called TRUE BLUE FANZINE. So far, it features interviews with: Shai Hulud, Free Spirit, Soul Search, Incendiary, Twitching Tongues, and more, as well as tons of photos/drawings.
http://thawalkingdead.tumblr.com/